Lauren Ingledow
Lauren Ingledow, BSc (Hons), – Canine Hydrotherapist
Lauren holds a BSc (Hons) in Applied Animal Studies, awarded in 2010. This included modules such as Advanced Animal Physiology, Pharmacology and Complementary Therapies. As part of her degree she completed a dissertation investigating the effects of hydrotherapy on muscle mass in dogs with cranial cruciate ligament rupture and hip dysplasia. In 2011 she completed BTEC Level 4 Canine Hydrotherapy. She has also completed courses in Water Management and ABC Animal First Aid.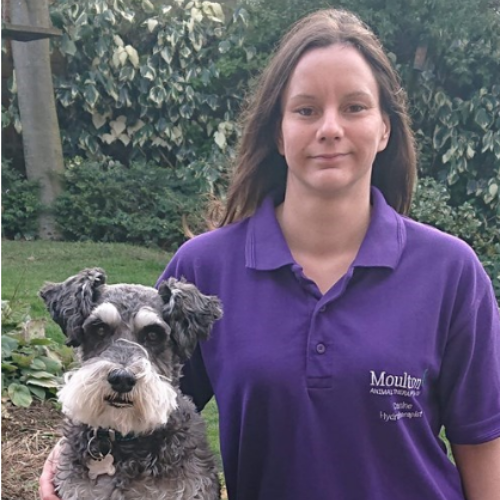 Jade Botterill
Jade Botterill, BSc (Hons) – Veterinary Physiotherapist & Canine Hydrotherapist
Jade is a qualified MSc Veterinary Physiotherapy from Harper Adams University in Shropshire. Jade is a member of the National Association of Veterinary Physiotherapists (NAVP).
Jade has a BSc (Hons) in Applied Animal Studies, awarded in 2014. In 2014 she completed BTEC Level 4 Canine Hydrotherapy and also holds a level 3 canine first aid qualification tailored to hydrotherapists.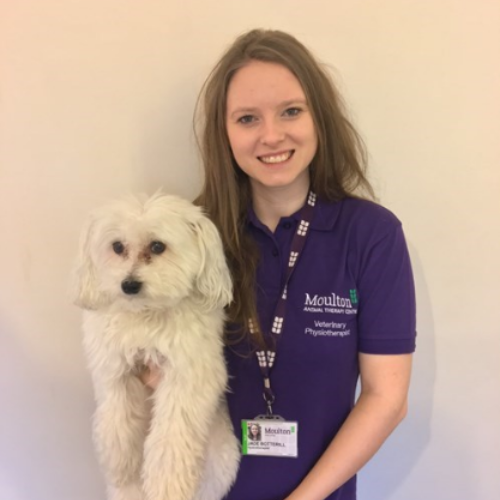 Peta Harris
Peta Harris, BSc (Hons) - RVN Canine Hydrotherapist
Peta graduated from the University of Wales, Swansea in 2003 with a degree in Zoology. She then went on to study Veterinary Nursing and qualified as a veterinary nurse in 2006. During this role Peta particularly enjoyed running nurse clinics and puppy parties and also went on to complete a certificate in Animal Behaviour. This enabled her to run her own clinics, helping to solve a variety of problems such as anxiety and aggression and also looking at the importance of how pain can affect an animal's behaviour.
Peta joined the Therapy Centre in April 2017 and whilst still being a registered veterinary nurse she completed her Level 3 Diploma course in Hydrotherapy for Small Animals in December 2018. She particularly enjoys treating our senior patients at the centre.
Outside of work she enjoys her horse and 2 Cocker Spaniels, which keep her very busy!!