Abi Lawes - PgDipVetPhys BSc(Hons) RVN, MIRVAP (VP)(ICH), RAMP
Veterinary Physiotherapist and Hydrotherapist Instructor
Abi is a Veterinary Physiotherapist and Hydrotherapist Instructor at Moulton College. Veterinary Physiotherapy has been her dream since very young. She loves to help animals feel comfortable and enjoys working with them and their owners. She started by qualifying with a BSc (Hons) in applied animal studies at Moulton College alongside completed a course in Level 4 Canine Hydrotherapy. Furthermore, she went on to do Veterinary Nursing for 6 years. During this time, she studied the Postgraduate Diploma in Veterinary Physiotherapy at the University of Nottingham working with dogs and horses.
She is currently researching veterinary physiotherapist's opinions on the use of modalities to manage pain as she works towards n MSc. Abi is a member of the Royal College of Veterinary Surgeons, the Institute of Registered Veterinary & Animal Physiotherapists and the Register of Animal Musculoskeletal Practitioners. Abi has an adorable Eurasian dog called Izzy and a beautiful cat called CAT. She also runs a business outside of Moulton College Animal Therapy Centre called AD Veterinary Physiotherapy. Abi loves to teach and feels this is important to encourage the learning of others.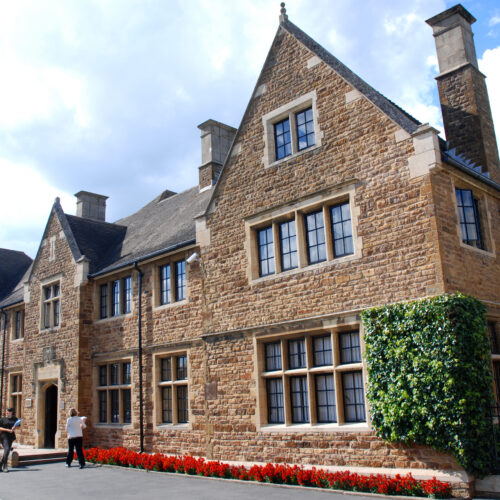 Flora Peratopoullos - BSc (Hons) Veterinary Physiotherapy MNAVP, MIRVAP(ICH)
Veterinary Physiotherapists & Instructor
Flora is one of our veterinary physiotherapists and instructors. She graduated from Coventry university and Moreton Morrell College in 2018 with a First-Class Honours degree in veterinary physiotherapy. She is an active member of National Association of Veterinary Physiotherapists (NAVP) and The Institute of Registered Veterinary and Animal Physiotherapists (IRVAP). Flora is also a trained hydrotherapist having completed her training at Greyfriars in Level 3 canine hydrotherapy.
Flora has a wealth of experience in both the equine and canine fields and outside of working for Moulton College Animal Therapy Centre, runs her own successful veterinary physiotherapy business (Bucks Veterinary Physiotherapy) where she sees a wide range of cases. Flora has a passion for agility and competes and trains her own dog. Flora has experience in training dogs and understands the demands put upon working and competing dogs and believes that veterinary physiotherapy should be a part of any dog's life.