All major updates will be sent directly to all students. This page will also be kept up to date with the latest information on how we are ensuring that all students, staff and visitors will be kept safe. Updates will also be posted on our social media channels.
The College has now re-opened to students and we are delighted to welcome everyone back.
We have followed the latest set of government guidelines to ensure that every step has been taken to keep our students, staff and community safe.
The guide below will provide you with information about the steps being taken throughout the College but here are the main points to remember:
Do not attend College if you or a member of your household has any of the symptoms of Corona-Virus. Contact the NHS to arrange to take a test and follow the advice provided.
It is now a requirement that all students and staff must wear a face covering whenever they are in communal, indoor areas (including corridors, etc) and when travelling on College transport (including mini-buses). It is not necessary to wear a face covering in classrooms however you are welcome to do so if you prefer.
Maintain a social distance of 2 metres wherever possible. Markings in classrooms and corridors will help you to do this.
Follow any one-way systems around the College.
Wash your hands with soap and water whenever possible. Alternatively use one of the sanitiser stations that are location throughout the College.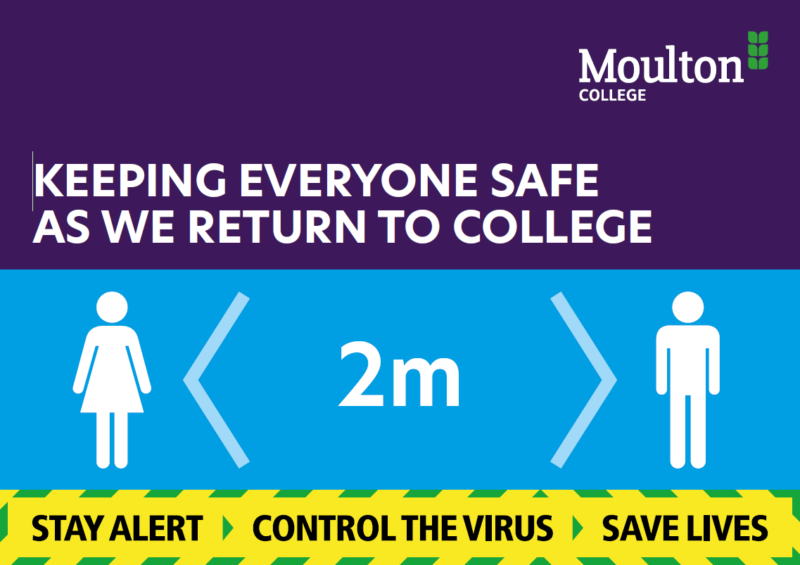 Our essential guide about keeping safe when you return to College
In line with the Awarding Body Pearson, Moulton College will be using published guidance in one of three ways to calculate your award for 2020.
1. Adaptation
For BTEC Higher Nationals the primary mitigation is to 'Adapt' assessment, where teaching and assessment can continue. The process for adaptation has already been published and can be found by clicking this link: https://qualifications.pearson...
2. Calculated
Grades (most HN qualifications) Centres will need to confirm unit grades for all completed units via their Assessment Board, as already required as part of the standard BTEC Higher National quality assurance process. In addition, Pearson will be ask for Centre Assessment Grades for incomplete units, based on the most likely grade that students who were due to complete their units between 20 March 2020 and 31 July 2020 would have achieved, as well as an indication of successful progression from HNC to HND.

3. Delay
(Qualifications with competence/professional licence) Where occupational competence is required or where qualifications function as a licence to practise and adaptation does not support the generation of enough reliable evidence to demonstrate competency, there may be no option but to delay until assessments can happen again as a Centre Assessment Grade would be unsuitable as it would not demonstrate occupational competency.
More detailed information can be found on the Pearson's website by following this link: https://qualifications.pearson...
Other useful links
You may find the following links to government advice useful