As a British Dressage venue competitions are held once a month up to Advanced Medium level and include Freestyle to Music tests. The centre also hosts Quest individual and Team dressage competitions as well as unaffiliated dressage competitions.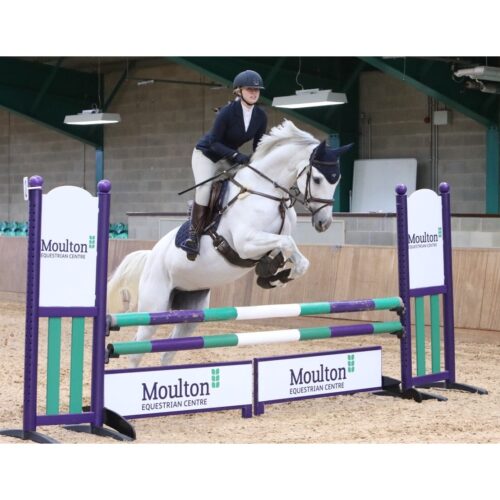 Unaffiliated show-jumping competitions are held monthly, in addition to regular clear round evenings and course hires. Competitions run from 50cm to 1m and are run as single phase competitions (with a timed section).

---
All competition and arena hire entries can be made via www.equoevents.co.uk
British Dressage (BD) affiliated competitions and Quest competitions are held at Moulton College throughout the year including the ever popular dressage to music and pick your own tests. Standard BD competitions take place in the indoor arena in a 20 x 60m arena while Quest competitions are always held in a 20 x 40m arena either indoors or outdoors (weather permitting). Both warm up times and competitions times are provided in advance.
Unaffiliated jumping competitions are held regularly throughout the year. These informal competitions are a great way to educate your horse and have fun whilst doing so! Pre-entries are required for all competitions as there are no entries permitted on the day. Both warm up times and competition times are provided in advance. *The course does not change, so you can attend any course walk.

Please check to confirm these events are running before each competition as they may be subject to changes.
---
For further details contact: equestrian.centre@moulton.ac.uk or call the office on: 01604 673585