The Equestrian Centre at Moulton College is a purpose built equestrian facility that provides a high quality learning environment for students, while also providing the local and regional equestrian community with a first class competition venue, events and therapy centre.
Outside of timetabled sessions and term time, the facilities are available to hire to both equine and non-equine organisations and may be combined with the hire of classrooms, lecture theatres, accommodation and catering facilities for large scale events.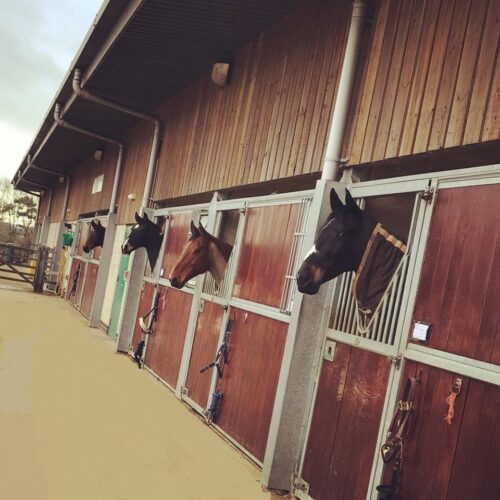 There is stabling on site for up to 36 horses across three yards, with rubber matting and in-situ hay bars. The main yard also includes a purpose built covered demonstration area with cross ties, stocks, hot-water shower, solarium and equine laundry facility. There is also an array of post and rail paddocks surrounding the Equestrian Centre providing grazing all year round.
The Centre boasts a 60m x 40m indoor arena with landscape mirrors, galleried seating, commentary box and PA System; a competition size floodlit outdoor arena and a full set of BS approved show jumps. The arenas are complimented by a cross-country schooling paddock, estate wide hacking and horse walker.

Horses used by our students for both practical and ridden sessions are carefully selected by our team of experts and are either owned by the College or are on working livery or loan agreements. Our horses provide a variety of experiences to our students with diverse backgrounds across the disciplines allowing our students plenty of opportunities to develop their skills.
In addition to being used for lesson delivery, our horses also provide a wide-ranging research population for student led projects and dissertations.
Students also have the opportunity to hone their skills and develop their core strength and fitness on 'Phoenix', our mechanical horse.
As one of the only facilities in the UK to have an equine water treadmill, straight line swimming pool and cold-water salt spa all under one roof the Therapy Centre provides an excellent learning resource for students while also operating commercially drawing in clientele from across the country. For more information click here.