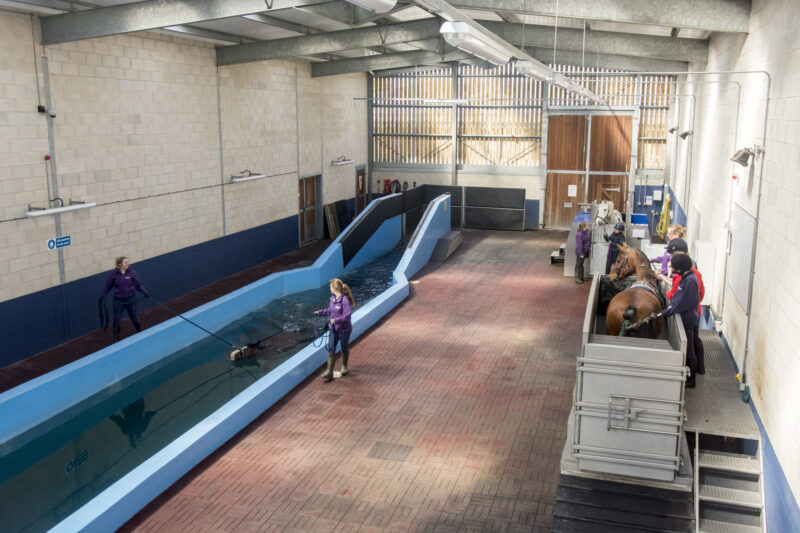 The Equine Therapy Centre is a unique facility given that it houses an aqua treadmill, swimming lane and cold water spa all under one roof.
Hydrotherapy; a branch of physiotherapy, has long been recognised for its noticeable benefits to health, both for humans and animals. Scientific research shows how the properties of water promote many therapeutic benefits including improved muscle and cardiovascular strength and endurance, relaxation, joint mobility and function, reduced pain and accelerated healing.
---
Our aqua treadmill is an exercise medium with therapeutic elements, especially in the recovery or post-acute phase of an injury.

It assists in the following:
Conditioning of the muscles and the heart and lungs
Reduces the stress on the tendons and ligaments
Controlled, supervised exercise for rehabilitation and aerobic activity
Increases stride length, muscle tone and strength
Improves core strength
Encourages the horse to work evenly and symmetrically
All horses involved across the spectrum of equestrian sports can benefit from work on the aqua-treadmill from grass roots to international level and all of our clients have tailor made programmes according to their needs and individual discipline.
Moulton College Equine Therapy Centre prides itself on being at the forefront of best practice and our experienced team were instrumental in the development of the industry guidelines produced by the Equine Hydrotherapy Working Group for the use of Aqua Treadmills.
The full guidance, endorsed by British Equestrian, can be viewed below:
Equine Water Treadmill Exercise - A Guide for Users
The College has a state-of-the-art BHA approved indoor straight line swimming pool which measures 30 metres long, 3.25 metres wide with a maximum depth of 2.7 metres. It has ramps enabling entrance and exit from both ends that gradually lead down into the water so that the horse can quietly enter into the pool whilst being led on two long reins along either side.

The pool also contains a variable force jet stream system that enables the horse to swim against a constant force of water if required.
The swimming lane has many benefits for horses as seen below:
It challenges the musculoskeletal system without concussive forces.
Improves fitness, stamina and muscle tone
Builds muscle without putting pressure on the joints
Improves flexibility, balance and circulation
Can be used as variation in training to freshen up stale horses.

Horses generally need a degree of symmetry and fitness with no known heart or back issues to be successful swimmers. Swimming is generally considered as a substitute for canter or gallop work.
Our modern hydrotherapy spa uses chilled saline applied in water jets to the lower legs. The water is held and cooled in our chiller at between -2 & -4 degrees, once the water reaches the horses legs the temperature varies at 2 to 4 degrees.

The spa assists with the following:
Strengthening the tissues
Reduce inflammation and swelling
Pain relief
Reduces general stiffness and soreness.
Helps with the realignment of tendon ligament fibres
Its maximum benefits are post events or training or as a preventative measure as well as for rehabilitation. The hydrotherapy spa can be useful in treating a variety of lower limb injuries.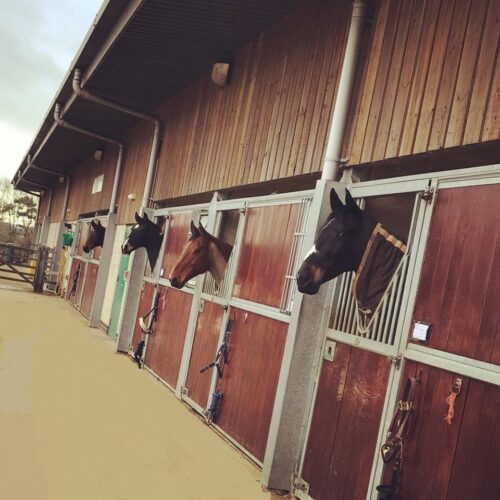 Sometimes it may be necessary and/or desirable for your horse to stay with us for a course of therapy sessions. Your horse will receive all the benefits of our full livery package plus the addition of the therapy treatments required. Their stay can be as long or as short as required. This may be of particular benefit to horses that cannot travel to the Therapy Centre on a regular basis. Prices start from just a single day.